Eerst volgende bezorg moment is
...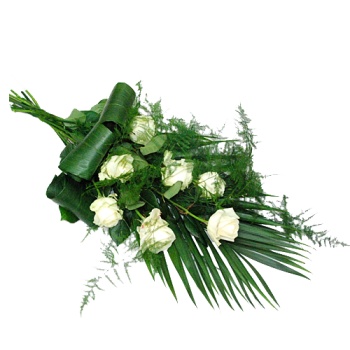 Hand bound funeral bouquet
Hand bound funeral bouquet white roses (+- 60cm) Your order will be carried out with the greatest care by our florists
The length of the mourning bouquets is approximately 60 to 65cm. If you choose a bouquet in a higher price range, the bouquet will be filled with more flowers.

Format in the photo is medium
Tip: add a card or ribbon with personalized text
By availability of flowers, the bouquet may be differed from the picture
Morning, afternoon and evening delivery possible
Same day delivered (ordering can often take place until 15:00, Saturday to 12:00)
Delivery throughout the week also on Sundays
More than 25 years of experience
Back to the overview ''Funeral flowers''
Step 1
Select your product
Step 2
Card / deliveryaddress
Step 3
Your details / invoice address
Eerst volgende bezorg moment is
...
Hand bound funeral bouquet
Hand bound funeral bouquet white roses (+- 60cm) Your order will be carried out with the greatest care by our florists
The length of the mourning bouquets is approximately 60 to 65cm. If you choose a bouquet in a higher price range, the bouquet will be filled with more flowers.

Format in the photo is medium
Tip: add a card or ribbon with personalized text
By availability of flowers, the bouquet may be differed from the picture
Morning, afternoon and evening delivery possible
Same day delivered (ordering can often take place until 15:00, Saturday to 12:00)
Delivery throughout the week also on Sundays
More than 25 years of experience
Back to the overview ''Funeral flowers''
Lees minder <